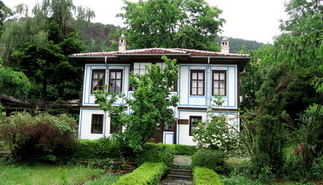 Chirpanlieva house
In the center of Shipka there is the Chirpanlieva House – a cultural monument of local significance and the only preserved Revival house. The collected ethnographic materials donated by the people of Shipka are formed in a small museum exposition. The objects of the traditional material and spiritual culture of Shipka's people of the Renaissance era were found in the arrangement of this house. On the first floor you can see some of the typical Shipka's handicrafts workshops – flute/bagpipe making and knife making.
On the second floor is reminiscent the typical 19th-century and early 20th-century Schipka lifestyle. The kitchen with a traditional fireplace in the corner, the water tank next to it, cupboards, shelters with copper bowls and a table. Next to it is the bedroom with a beautiful cast iron stove. On the low bedstead,covered with mattress made of wool and goats yarn, has been sleeping the whole family. In the living room with a shallow niche decorated with frescoes and covered with woven rugs wooden benches, the hosts have welcomed the representative guests. The lounge, connecting all the rooms, with a glazing, which is open to the yard in the summer months, has also been used to host guests and for conversations. In the "working" room on the the wood loom the lady of the house has weaved everything necessary to dress the family and the fabrics for the whole house.
The yard coated with stone slabs and boxwood, is the natural background of the beautiful Chirpanlieva house.
Narodno Chihtalishe "Svetlina – 1861" (the local cultural center) continues its important activity to collect and gather more items for the collection.